LED light therapy is a soothing and effective noninvasive skin rejuvenation treatment for individuals experiencing acne breakouts, fine lines, rosacea, and scarring. This treatment, offered by DeRosa Center Facial Plastic Surgery & Med Spa in Boston, MA, minimizes acne and helps to soothe the skin by reducing the swelling, redness, and inflammation associated with common skin conditions. During LED light therapy, a combination of red and blue lights penetrate the top layer of skin and stimulate the production of collagen to smooth the skin. Contact DeRosa Clinic Facial Aesthetics to learn more about LED light therapy.
Ideal Candidates for LED Light Therapy
A member of our team will determine if you are a good candidate for LED light therapy during a private consultation at our Boston clinic. You are likely a good candidate for an LED light therapy treatment if you:
Have acne, eczema, psoriasis, or hyperpigmentation
Suffer from redness, inflammation, or other skin irregularities
Have facial wrinkling you wish to reduce without surgery
You desire a lasting aesthetic solution
You desire a long-lasting solution
Reviews
"I love my appointments at DeRosa Center. I always feel confident and look great with the services I receive. I highly recommend DeRosa Center!"
- K.H. /
Google /
Jun 17, 2022
"Derosa Clinic is a state-of-the-art skin care and facial aesthetics center. I recently had the most incredible facial with Steven. During my appointment he took the time to listen to my concerns and responded with a treatment plan including skin care products and IPL, (Intense Light Therapy) sessions. Steven is very experienced, gentle and his knowledge of treatments and products is endless. Beyond that, he is very kind and takes an interest in the person as well as the skin. You truly feel like you are the only person in the world while he's treating you. My skin is brighter, smoother and softer and I plan on a long relationship with Steven and Derosa Clinic. I would highly recommend them for any and all skincare needs."
- L.Z. /
Google /
Jun 04, 2022
"Dear Dr. DeRosa, This purple heart has been on my altar for a very long time. I would like to give it to you so you can remember each time you look at it how AMAZING you are and how many hearts you are healing! As I told you before you have found your Dharma (your calling in life --> why the universe organized these trillions of cells into an organism called Dr. DeRosa!) You are a gift, a gifted person and you use your gift well. You are not just fixing broken hearts, you are fixing broken faces. Forever Grateful!"
- Anonymous /
Office Visit /
Jun 01, 2022
"It has been a pleasure to work with you...I am very pleased with the entire process"
- F.S. /
Google /
May 21, 2022
"I've been going to DeRosa Center for almost ten years now for all of my skin care needs. They provide great services in a friendly and comfortable atmosphere. Always willing to answer all my questions and explain all the different products and techniques to me."
- B.L. /
Google /
May 21, 2022
Previous
Next
Your LED light therapy session will last between 20 – 30 minutes. The procedure is warm and comfortable and will not cause any pain. During your treatment session, a member of our team will cleanse and prep your skin before gently gliding the LED handpiece over your face. The handpiece will send wavelengths and energy through the top layer of your skin to promote healing and stimulate the collagen production process. LED light therapy can be added to a facial rejuvenation treatment or performed as a standalone procedure.
Following your session, your skin may be slightly red and sensitive but will heal quickly over the next day or so. Patients typically notice softer, healthier skin in around 2 – 3 days. Our team may recommend several rounds of LED light therapy to help you achieve your personal aesthetic goals. During each treatment, collagen production will be stimulated for results that appear within a few weeks. As such, touch-up sessions may be rewarding and help protect and prolong your results.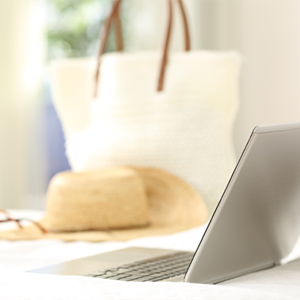 More Radiant Skin with LED Light Therapy
If over-the-counter treatments are proving ineffective in the treatment of your skin imperfections, LED light therapy may be right for you. Using blue and red lights and energy, LED light therapy helps to target a variety of skin issues for clearer, more radiant skin. Contact DeRosa Center Facial Plastic Surgery & Med Spa in Boston, MA to schedule your treatment.
Related Posts