LED light therapy is a soothing and effective noninvasive skin rejuvenation treatment for individuals experiencing acne breakouts, fine lines, rosacea, and scarring. This treatment, offered by DeRosa Center Facial Plastic Surgery & Med Spa in Boston, MA, minimizes acne and helps to soothe the skin by reducing the swelling, redness, and inflammation associated with common skin conditions. During LED light therapy, a combination of red and blue lights penetrate the top layer of skin and stimulate the production of collagen to smooth the skin. Contact DeRosa Clinic Facial Aesthetics to learn more about LED light therapy.
Ideal Candidates for LED Light Therapy
A member of our team will determine if you are a good candidate for LED light therapy during a private consultation at our Boston clinic. You are likely a good candidate for an LED light therapy treatment if you:
Have acne, eczema, psoriasis, or hyperpigmentation
Suffer from redness, inflammation, or other skin irregularities
Have facial wrinkling you wish to reduce without surgery
You desire a lasting aesthetic solution
You desire a long-lasting solution
Reviews
"Truly a first class operation! Nicole is the best! She takes the time to listen to your concerns and makes recommendations without pushing anything. The staff are all extremely personable, knowledgeable and professional. I would hands down recommend Nicole and The DeRosa Center."
- K.C. /
Google /
Feb 01, 2023
"I needed to have my entire nose restructured. I was very apprehensive about going to a location that was not "in" one of the major Boston hospitals. In the end, after many consults elsewhere and recommendations from top Boston MD's, I decided to move ahead w Dr. DeRosa and have her do the procedure in her Newbury Street surgical center. The procedure went perfectly, I felt so at ease and the results are just perfection. She is beyond talented. I feel so lucky to have been her patient. I go to her office now too for all my facials- the best!"
- E.S. /
Google /
Jan 27, 2023
"I love this place. The nurses are fabulous-they are skilled and detail oriented. The receptionists are amazing! So incredibly smart and helpful. I'm writing an addendum to my first review because I am SO HAPPY! Over the course of the past 6 months I have seen both Julia and Nicole for almost monthly appointments for a variety of things (filler, Botox, and recently a Geneo facial). Both women are incredibly knowledgeable, skilled and have brought me results that are above and beyond my expectations. The level of skill, expertise, and the extraordinary "bedside manner" of the people at DeRosa is remarkable and the best I've experienced anywhere."
- J.O. /
Google /
Jan 21, 2023
"Nurse was very professional and very knowledgeable about procedure. Explained everything exactly as to what would happen and results I could expect. Would absolutely recommend for anyone wanting to treat or fix something they might not like!!"
- P.V. /
Google /
Jan 13, 2023
"Nicole is knowledgeable, sincere, patient and thorough."
- K.B. /
Google /
Jan 10, 2023
Previous
Next
Your LED light therapy session will last between 20 – 30 minutes. The procedure is warm and comfortable and will not cause any pain. During your treatment session, a member of our team will cleanse and prep your skin before gently gliding the LED handpiece over your face. The handpiece will send wavelengths and energy through the top layer of your skin to promote healing and stimulate the collagen production process. LED light therapy can be added to a facial rejuvenation treatment or performed as a standalone procedure.
Following your session, your skin may be slightly red and sensitive but will heal quickly over the next day or so. Patients typically notice softer, healthier skin in around 2 – 3 days. Our team may recommend several rounds of LED light therapy to help you achieve your personal aesthetic goals. During each treatment, collagen production will be stimulated for results that appear within a few weeks. As such, touch-up sessions may be rewarding and help protect and prolong your results.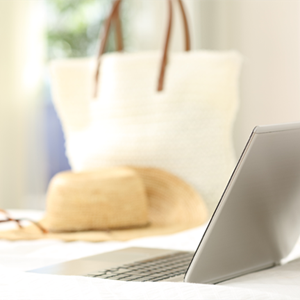 More Radiant Skin with LED Light Therapy
If over-the-counter treatments are proving ineffective in the treatment of your skin imperfections, LED light therapy may be right for you. Using blue and red lights and energy, LED light therapy helps to target a variety of skin issues for clearer, more radiant skin. Contact DeRosa Center Facial Plastic Surgery & Med Spa in Boston, MA to schedule your treatment.
Related Posts