LED light therapy is a soothing and effective noninvasive skin rejuvenation treatment for individuals experiencing acne breakouts, fine lines, rosacea, and scarring. This treatment, offered by DeRosa Center Facial Aesthetics in Boston, MA, minimizes acne and helps to soothe the skin by reducing the swelling, redness, and inflammation associated with common skin conditions. During LED light therapy, a combination of red and blue lights penetrate the top layer of skin and stimulate the production of collagen to smooth the skin. Contact DeRosa Clinic Facial Aesthetics to learn more about LED light therapy.
Ideal Candidates for LED Light Therapy
A member of our team will determine if you are a good candidate for LED light therapy during a private consultation at our Boston clinic. You are likely a good candidate for an LED light therapy treatment if you:
Have acne, eczema, psoriasis, or hyperpigmentation
Suffer from redness, inflammation, or other skin irregularities
Have facial wrinkling you wish to reduce without surgery
You desire a lasting aesthetic solution
You desire a long-lasting solution
Reviews
"Very professional and felt comfortable with her and her staff. The results of my surgery were just as I wanted. 😃😃😃. I'm definitely recommend her abs I'm coming back for more! ❤️"
- D.V. /
Google /
Aug 27, 2021
"Thank you for the opportunity to benefit from your consideration and skill. I will continue on my journey and experience more adventures! My best to all."
- Anonymous /
Office Visit /
Jul 22, 2021
"I had the most amazing experience with dr derosa for my rhinoplasty. She is the nicest, most caring doctor I have ever met! Everything was seamless, no issues and the surgery went great. My nose fits my face perfectly and I still look just like me! I am only a month out and love my results. I cannot recommend her enough!"
- C.B. /
Google /
May 14, 2021
"When I was 18 years old I broke my nose. I never did anything about it at the time Because it never really look that bad. As I got older it started looking worse to me my bridge looked really flat and it seem like the bones were wider possibly just the aging process. When I really noticed was in pictures and it really bothered me and I was constantly trying to contour my nose to make it look narrow. Most people didn't even notice but it really bothered me. I finally decided to get an opinion on what it would entail to fix it. I went to three different plastic surgeons. I finally decided on Jaime DeRosa at the Derosa clinic in Boston. Right away after consulting with her I knew she was the right surgeon. She has such an amazing personality and she is a double certified facial plastic surgeon. I just knew I was in good hands. I had the procedure done yesterday and I am feeling great today I was even able to walk the dogs early this morning at 6:30 AM. Her husband is the anesthesiologist and they both made me feel so relaxed and comfortable before and after the procedure. I couldn't have asked for a better pair!"
- NC /
Other /
Apr 02, 2021
"As a mom of 3 little kids, my face was starting to look tired and I was noticing wrinkles starting to appear. After a consultation with Nicole, I decided the IPL laser was the best choice for me. I could not be happier with my results! My face looks years younger and my skin tone is much more even. Nicole and Steven were both extremely knowledgeable and realistic, which I appreciated. Will absolutely be recommending this office to all of my friends!"
- D.H. /
Google /
Jan 19, 2021
Previous
Next
Your LED light therapy session will last between 20 – 30 minutes. The procedure is warm and comfortable and will not cause any pain. During your treatment session, a member of our team will cleanse and prep your skin before gently gliding the LED handpiece over your face. The handpiece will send wavelengths and energy through the top layer of your skin to promote healing and stimulate the collagen production process. LED light therapy can be added to a facial rejuvenation treatment or performed as a standalone procedure.
Following your session, your skin may be slightly red and sensitive but will heal quickly over the next day or so. Patients typically notice softer, healthier skin in around 2 – 3 days. Our team may recommend several rounds of LED light therapy to help you achieve your personal aesthetic goals. During each treatment, collagen production will be stimulated for results that appear within a few weeks. As such, touch-up sessions may be rewarding and help protect and prolong your results.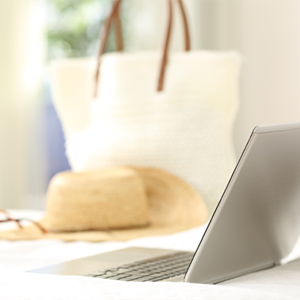 More Radiant Skin with LED Light Therapy
If over-the-counter treatments are proving ineffective in the treatment of your skin imperfections, LED light therapy may be right for you. Using blue and red lights and energy, LED light therapy helps to target a variety of skin issues for clearer, more radiant skin. Contact DeRosa Center Facial Aesthetics in Boston, MA to schedule your treatment.
Related Posts