What is Laser Vein Treatment?
Prominently found on the legs and face, spider veins are made up of small networks of blood vessels that become visible through the skin. Caused by age, genetics, and other factors, spider veins may appear red, blu, or purple, making them difficult to mask. As these undesirable veins tend to worsen over time and lead to greater visibility, it's important to treat them at the first signs of visibility. To decrease the appearance of spider veins on the body and face, DeRosa Center for Facial Plastic Surgery & Med Spa offers nonsurgical laser vein removal using the GentleMaxPro laser in Boston, MA, for any individual wanting to even out skin tone and decrease visible signs of aging. In your initial consultation, our aesthetic team will work with your needs to develop a personalized plan for your vein reduction treatment.
Reviews
"I have been coming to DeRosa Clinic for years and really appreciate how they go above and beyond to make sure patients are happy. Dr. DeRosa and her staff are friendly, professional, responsive and provide excellent service. The clinic is clean with a great location on Newbury St. Highly recommend booking facials with Steven. Glad I found this place! Thank you Dr. DeRosa, Steven and staff!"
- K.T. /
Google /
Aug 21, 2022
"Great facial experience."
- D.F. /
Google /
Aug 11, 2022
"I have only positive things to report about the amazing staff at the Derosa Clinic. I have been fortunate enough to have been a customer of Steven G for over 5 years. He is a miracle worker. The staff at the front (Megan/Colleen) know the business and treat you like family. I get complimented frequently on my skin and it's because of the treatments and products I get from the Derosa Clinic - they truly care about their clients!"
- PD /
Office Visit /
Jul 28, 2022
"Amazing experience with Dr. DeRosa and her team! I'm one day post mini facelift and already love the result!"
- P.B. /
Google /
Jul 27, 2022
"Excellent care, every time! I've been going to Dr. Derosa for the past few years for Botox and filler, and I've been consistently happy with the results."
- W.O. /
Google /
Jul 15, 2022
Previous
Next
Nonsurgical vein reduction sessions at DeRosa Center for Facial Plastic Surgery & Med Spa can help minimize the appearance of small to mid-sized blood vessels that appear on the body and face. Typically known as spider veins, these visible vessels are not usually considered a medical issue; however, they are considered unwanted cosmetically. Many people tend to avoid certain clothing, such as shorts or swimsuits, or use a lot of makeup and cosmetics in attempts to mask their veins. Laser vein reduction is best for patients who are in overall good health, do not have a history of blood clotting, and are not pregnant.
How is Laser Vein Treatment performed?
Nonsurgical laser vein removal treatment is performed in our Boston, MA, office as an outpatient procedure in about 20 – 40 minute sessions, based on the size and number of treatment areas. For your procedure, you will be asked to recline and relax in a private treatment room as the affected area is cleansed and prepared. If you would like, our staff will apply a topical numbing cream can be applied before the session to lessen any potential discomfort. The laser is then passed over the skin so the energy can target the spider veins through a series of pulses without affecting the surrounding tissues or other body parts. The blood vessels absorb the laser's energy, collapsing the vessel wall. You will be able to immediately leave our office after treatment or as soon as you feel ready in order to get back to your daily activities.
What can I expect after treatment?
Immediately following your laser vein removal session, you might notice some swelling, bruising, and redness around the treated areas, but these side effects usually subside within 1 – 2 weeks of treatment. For optimal healing, compression or supportive garments should be worn to increase blood flow and circulation. It's also important to avoid prolonged or unnecessary sun exposure, and you are encouraged to frequently apply sunscreen to the areas which have been treated. Several patients may novice visible improvement immediately, but the timing of outcomes will be different for each individual. In your initial consultation with our qualified team, realistic expectations will be reviewed, along with suggestions on session plans and quantity to achieve your optimal results. New spider veins may appear over time, so more follow-up sessions can follow as needed.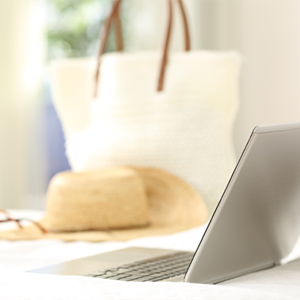 Get rid of pesky spider veins today!
Rather than concealing or covering unwanted spider veins on your face or body, consider learning more about noninvasive laser vein reduction treatments at DeRosa Center for Facial Plastic Surgery & Med Spa in Boston, MA, using our GentleMaxPro laser to achieve your ideal complexion. In your private consultation, our skilled team will assess your spider veins and develop a custom treatment plan to best fit your concerns and goals.