What is a Facial Redness Treatment?
Redness on the face, caused by hyperpigmentation or inflammation, is often concentrated across the cheeks and nose. DeRosa Center for Facial Plastic Surgery & Med Spa in Boston, MA offers our state-of-the-art GentleMaxPro laser as a solution to treat the skin, lightening it and minimizing signs of redness and irritation. This condition can happen to almost anyone, but middle-aged to elderly women with fairer complexions may be more prone to experience chronic redness and irritation. Our team of aesthetic providers will assess your skin for symptoms and create a customized treatment plan using the laser to help minimize symptoms and keep them under control.
Reviews
"Fabulous experience"
- S.N. /
Google /
Mar 10, 2023
"I have been going to the Med Spa for the past couple of years, and I couldn't be happier with the results. The minute I walk through the door I am always greeted by their professional and friendly staff. A big shout out to Colleen and Meg for making the first impression at DeRosa warm and friendly. They are always personable and very helpful. Steven, the lead asthetician, is amazing! He is extremely knowledgeable and always provides the best facial treatments. My skin is brighter, smoother and softer. Nurse Nicole is highly skilled and very professional. I would highly recommend DeRosa for any and all skincare needs."
- M.C. /
Google /
Feb 23, 2023
"Truly a first class operation! Nicole is the best! She takes the time to listen to your concerns and makes recommendations without pushing anything. The staff are all extremely personable, knowledgeable and professional. I would hands down recommend Nicole and The DeRosa Center."
- K.C. /
Google /
Feb 01, 2023
"I needed to have my entire nose restructured. I was very apprehensive about going to a location that was not "in" one of the major Boston hospitals. In the end, after many consults elsewhere and recommendations from top Boston MD's, I decided to move ahead w Dr. DeRosa and have her do the procedure in her Newbury Street surgical center. The procedure went perfectly, I felt so at ease and the results are just perfection. She is beyond talented. I feel so lucky to have been her patient. I go to her office now too for all my facials- the best!"
- E.S. /
Google /
Jan 27, 2023
"I love this place. The nurses are fabulous-they are skilled and detail oriented. The receptionists are amazing! So incredibly smart and helpful. I'm writing an addendum to my first review because I am SO HAPPY! Over the course of the past 6 months I have seen both Julia and Nicole for almost monthly appointments for a variety of things (filler, Botox, and recently a Geneo facial). Both women are incredibly knowledgeable, skilled and have brought me results that are above and beyond my expectations. The level of skill, expertise, and the extraordinary "bedside manner" of the people at DeRosa is remarkable and the best I've experienced anywhere."
- J.O. /
Google /
Jan 21, 2023
Previous
Next
You might want to consider treatment for facial redness if you have a spectrum of mild to severe symptoms, which could range from medical issues such as rosacea to more cosmetic concerns. The most standard symptom for individuals pursuing treatment is redness of the face that does not fluctuate or settle in short periods of time. In the majority of cases, the central part of the face, or the t-zone, is the most noticeably red. In this scenario, small blood vessels in the nose, cheeks, and chin can often swell and become visible. You may also notice some swelling and heat around the affected areas. In most cases of facial redness, there are no alarming medical issues to address, but patients still desire a more even, youthful appearance by reducing redness and hyperpigmentation.
How is this treatment performed?
Here at DeRosa Center for Facial Plastic Surgery & Med Spa, we now offer treatment for facial redness, whether for cosmetic or medical purposes (or some combination of both), utilizing our state-of-the-art GentleMaxPro laser. This laser is known for its ability to resurface the skin and even out areas of deep pigmentation, along with treating sun spots and age spots. While some facial redness concerns might be met by antibiotics or surgery, when medical concerns get raised, laser treatment for redness is an excellent option for those patients who have more cosmetic or preventive concerns. This procedure often helps to minimize the look of irritated blood vessels and remove excessive tissue buildup around the nose and t-zone areas where redness often occurs.
What can I expect after treatment?
Although it may seem counterintuitive, after laser treatment you can expect an increase in redness and swelling. This is not ideal; however, you will notice a reduction after 2 – 3 days to a much more even, calm skin tone than prior to treatment. In order to alleviate some of the initial irritation the procedure may cause, you will want to avoid hot and steamy areas such as hot tubs, sun exposure, or exfoliation that may irritate the new skin cells. In addition, do your best to avoid wearing makeup or aggressive skin care regimens that will contribute to your skin's irritation. We recommend wearing ample amounts of sunscreen on the affected areas for the weeks following treatment in order to best protect your skin and guarantee optimal results.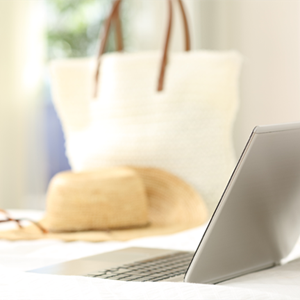 Facial Redness Treatment FAQs
Is facial redness treatment safe?
Yes, treatment for facial redness is considered safe when performed by a qualified professional like Dr. DeRosa. However, patients should follow all aftercare instructions in order to avoid potential complications. This includes avoiding direct sun exposure, using only gentle skincare products, and avoiding picking or scratching the treated areas.
Do results last after facial redness treatment?
Results from facial redness treatment are long-lasting, though some patients require additional sessions as recommended by DeRosa Center for Facial Plastic Surgery & Med Spa. We can discuss your expected outcomes before any procedure is performed. Rest assured that we will customize your plan to ensure long-lasting results.
Do I need to take any special precautions before facial redness treatment?
Prior to facial redness treatment, it's important to avoid sun exposure, waxing, and treatments that increase your risk of skin irritation. In addition, you should stop using any acne medications for a short period. Dr. DeRosa can provide additional information and individualized recommendations to ensure a safe and successful experience.
Redness and hyperpigmentation not only have physical symptoms but can create emotional and psychological ones as patients often express anxiety and self-consciousness in public, even avoiding social situations because of redness. If you struggle with any of these feelings or symptoms, please call DeRosa Center for Facial Plastic Surgery & Med Spa today to set up an appointment to put your best face forward for the future. Our skilled staff in Boston, MA, is knowledgeable about innovative treatments utilizing the GentleMaxPro laser and is excited to help set you up for looking and feeling your best.