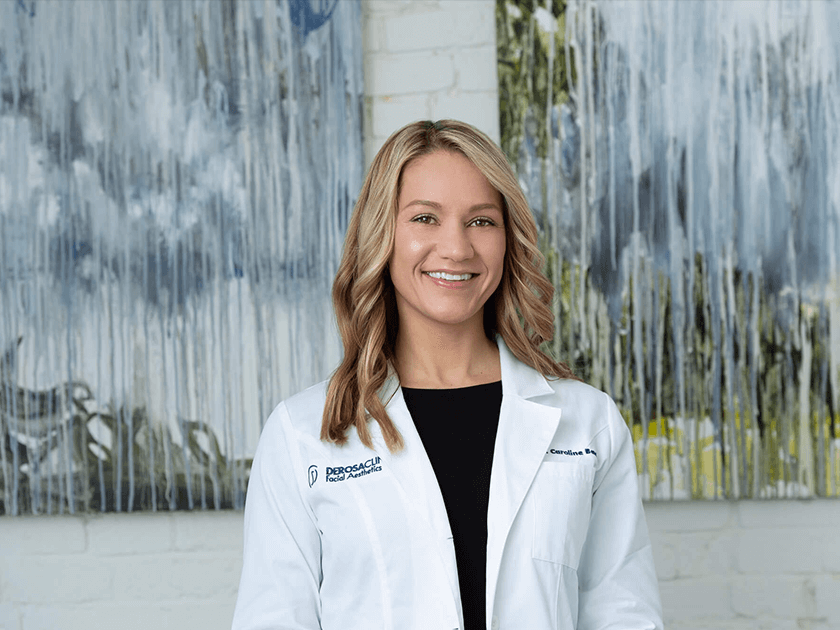 Dr. Caroline Banks is a double board-certified and fellowship-trained facial plastic and reconstructive surgeon. At DeRosa Clinic Facial Aesthetics in Boston, MA, Dr. Banks specializes in facial rejuvenation and rhinoplasty, and she performs surgeries in our on-site, AAAASF-accredited surgery center. With years of experience and expertise in the intricacies of the face, Dr. Banks is the go-to facial plastic surgeon for all aspects of aging face surgery. Additionally, Dr. Banks received extensive training in aesthetic facial procedures, including cosmetic injectables.
From complex facial plastic surgeries to injectables and skin care, Dr. Banks is excited to incorporate her years of expertise so patients receive an all-encompassing, anti-aging approach. Dr. Banks is passionate about providing individualized care and treatment plans to meet each person's specific needs. When it comes to her patients, she is dedicated to delivering excellent and compassionate care with natural-looking results in a comfortable, safe setting.
With an expert technique, years of experience, and extensive research in the field of facial plastic and reconstructive surgery, Dr. Banks can help patients achieve their aesthetic goals. Known for providing beautiful results, she performs a variety of delicate and complex procedures, including facelifts, mini facelifts, eyelid lifts, and brow lifts. To help patients gain a more youthful appearance without undergoing surgery, Dr. Banks has experience with nonsurgical skin treatments, like injectables or dermal fillers, including Juvéderm, Restylane, and Voluma.
Dr. Banks graduated from the College of William & Mary with the highest honors. After graduating, she earned her medical degree from the University of Pennsylvania School of Medicine and attended her residency in otolaryngology at the Medical University of South Carolina. Following her rigorous studies, Dr. Banks pursued a prestigious fellowship in facial plastic and reconstructive surgery at Harvard's Massachusetts Eye and Ear. While there, she received an award for excellence in teaching.
In 2016, Dr. Banks joined the faculty of Massachusetts Eye and Ear Infirmary. She is currently a clinical instructor in otolaryngology and helps with resident teaching at Harvard Medical School. In 2019, Dr. Banks joined the DeRosa Clinic Facial Aesthetics to focus on aesthetic facial plastic surgery. Throughout her career, she has written many peer-reviewed articles and textbook chapters that focus on facial plastic surgery and the treatment of facial nerve disorders. Because of her extensive research and experience, she has spoken at many regional and national conferences.
Throughout her education and teaching experience, Dr. Banks has received several notable awards, including:
Dean's List, College of William & Mary
College of William & Mary Academic Scholarship
Summa Cum Laude, William & Mary
Walter Lewis Croll Academic Scholarship
Resident Travel Award, Triological Society
Resident Research Grant, University Research Committee
Resident Travel Award, International Conference on Head and Neck Cancer
Teacher of the Month Excellence Award, Medical University of South Carolina
Head and Neck Resident of the Year Award, Medical University of South Carolina
Clinical Fellow Award of Excellence in Teaching, Massachusetts Eye and Ear Infirmary
Dr. Banks is a proud member of the following societies:
American Academy of Otolaryngology
American Academy of Facial Plastic and Reconstructive Surgery
Reviews
"Best first injectable treatment! Dr Banks talked me through the entire process and really put me at ease. I love the results!"
Anonymous
Healthgrades
"Dr. Caroline Banks warm inviting manner put me at ease the first time I met with her, being fearful of what she would say regarding my diagnosis - melanoma on my nose. She explained very clearly the plan for reconstructive surgery and subsequent plastic surgeries. She is extremely competent and has a broad knowledge base, all of which led to a great surgical outcome.Her staff is friendly, courteous, helpful and very efficient.This turned out to be a positive experience fo myself and family."
A.C.
Healthgrades
"We were with our son during his surgery by Dr. Banks and we can't say enough about how impressed we were with the staff, the facility, and the compassionate communication we received throughout the day. Dr. Banks was enormously reassuring to our son before and after the surgery. Knowing what to expect post op was so helpful in his recovery and in dealing with the pain and wound care. If we ever had need, we would travel to Mass Eye and Ear."
D.S.
Healthgrades
"She happens to be a doctor that combines intelligence and expertise with kindness. I am very pleased with my results and look forward to my appointments."
B.
Healthgrades
"I have seen multiple ENTS through the course of multiple different injuries to my nose. But Dr. Banks by far exceeds expectations in all aspects of being a doctor. She is very caring compassionate and understanding. Dr. Banks definitely goes above and beyond for he patients. Even when dr. Banks was on vacation she took the time out to call me because I had a concern and eased my mind. She is by far the best doctor I have met this far. Her staff Ethel is also outstanding! Highly recommended!"
J.
Healthgrades
Related Posts